Thinking about studying some Spanish during the holidays this year? Where's a good place to go in Mexico?
We think Oaxaca!
There's still time to give yourself or your whole family the gift of rich Mexican language and culture in this colorful, warm city, where Christmastime is truly unique.
Why Oaxaca?

This Christmas present is full of delightful
crafts: those whimsical alebrijes, for example
carols: Silent Night, Noche de Paz…, and traditional
Christmas misas for the masses.
Replace sugarplums with visions of
posadas: the door-to-door reenactment of Mary and Joseph asking for room for the night
piñatas: learn to make one while you're there, and hot mulled
ponche that packs a punch of fruit and spirits.
Holiday Calendar

Oaxacans celebrate this time of year with both Mexican and distinctly regional festivities.
Although the season really starts December 12 with the day of the Virgin of Guadalupe and goes through February 2, the day of the Candelaria, or candlelit mass, be sure not to miss: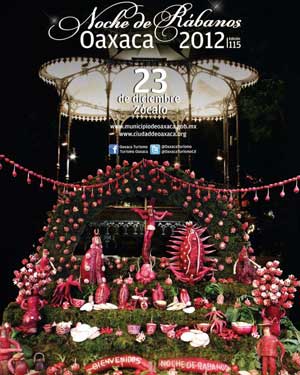 December 23: La Noche de los Rábanos (Night of the Radishes)
Go to the zócalo, the main square, for a wacky Oaxacan night of giant carved radishes. You've gotta see this one for yourself!
December 24: Noche Buena (Christmas Eve)
Christmas Eve is the actual day of celebration and activity (not Christmas Day). Posadas end — Mary and Joseph find their stable — while ponche drinking and piñata whomping begin.
Starting in the afternoon, the zócalo fills with festive folks and fun: solemn religious processions, merry traditional dances, blaring bandas (so everyone can dance), and pyrotechnic displays bright enough for Santa to see from the North Pole. The reveling pauses, though, for Catholic "rooster's" mass (misa de gallo) at midnight.
December 31: Año Nuevo (New Year's)
Greet the new year a lot like you greeted Christmas: with dancing, music, fireworks in the square, presumably after a large cena with your family (homestay or real!).
January 2: Las Cuevitas (Teotitlán del Valle)
Make the sacred trip to the "little caves" of nearby Zapotec town Teotitlán del Valle to request that your dreams come true, by constructing them out of sticks and stones. Really.
January 6: Dia de los Reyes (Kings' Day/Epiphany)
Often the kings bring the gifts to children in Mexico, not Santa, so this day is of equal if not more commercial importance than Christmas.
Make sure to eat yourself a slice of the famous "kings' ring" cake, the rosca de reyes, being sure not to get the piece with the little baby Jesus figurine. If you get him, you're obligated to make tamales for all of your friends on February 2!
During this 2012-13 holiday season, you can also marvel at what can be made from paper mache at the piñata festival, or from corn husks at the totomoxtle show; admire (and buy) locally dyed and woven textiles at the expo; and honor Oaxaca city's patron saint, the Virgen de la Soledad (Virgin of Solitude), on her day (December 18). Plus there's everything to do and see in Oaxaca that's there all year 'round!
Gift-Wrapped School Packages

Several Spanish schools in Oaxaca offer special Christmas packages, specifically designed to have you and your family not only learn lots of Spanish, but also fully participate in the seasonal fun and fascination.
Come for one, two, or three weeks (or more, of course!) starting mid December. Spend your winter break or vacation immersed in both Spanish language and end-of-the-year Oaxacan culture.
In addition to Spanish classes, take workshops such as Oaxacan cooking, piñata making, and seasonal songs. Attend a lecture on Christmas customs in Mexico. Visit the Christmas market with your school. Then learn a few steps of salsa and merengue just in time to dance in the new year.
Want to know more? Contact us.
Already been to Oaxaca for Christmas? What was your favorite part? Tell us about it by leaving a comment.