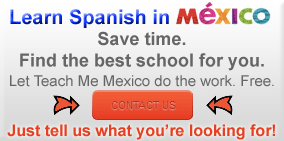 Is your ideal Spanish school waiting for you in Guanajuato (gwah-nah-HWAH-toe)? There certainly are quite a few to choose from -- a testament to its popularity as a Spanish-language-learning destination -- so let us do the legwork for you. We'll save you time and find the best school for you. Just tell us what you're looking for. Here's more about this lovely city:
Capital city of the state of same name, Guanajuato's rich history and colorful colonial edifices cover the steep hills of a gorge in this central sierra. The maze of streets -- many that dive into underground tunnels near the centro -- criss-cross the dry ravine, yielding to a multitude of lovely little tree-filled, café-edged plazas that dot the UNESCO World Heritage Site.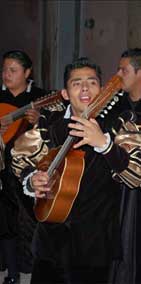 The world's largest producer of silver in the colonial era, this pretty, wealthy, former mining town has grown to be a small city with a vibrant, established cultural life, due in part to its large own University of Guanajuato. Expect festivals, film, theater, art, and music!
Indeed, Guanajuato hosts one of the largest and most well-respected cultural events in Latin America, the Festival Internacional Cervantino (from Miguel de Cervantes), every fall. And any time of year you can practice your Spanish song by following a fun callejoneada -- a sort of walking serenade usually given by a rowdy group of student musicians and singers. (A copita of alcoholic beverage often adds to the partying atmosphere.)
You can't ask a Mexican (or really anyone who's been there) about Guanajuato without hearing about the mummies: bodies from the last century or so, found in the municipal cemetery, "mummified" by a combination of dryness, soil, and other factors. Not for the faint of heart, the fascinating mummies are on plain display in the Museum of the Mummies.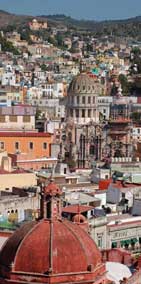 Don't overlook Guanajuanto's other cultural riches, though, including
| | |
| --- | --- |
| | museums, like the House of Diego Rivera |

| | |
| --- | --- |
| | churches, such as the iconic Basílica de Nuestra Señora de Guanajuato |

| | |
| --- | --- |
| | mansions |

| | |
| --- | --- |
| | theaters, like the must-see Teatro Juárez |

| | |
| --- | --- |
| | and manicured plazas. (Stop for a coffee in Jardín de la Unión.) |
Click to see more Things to Do in Guanajuato, or contact us now if you're ready to know about Spanish schools there!
CONTACT US
We know how hard it is finding the perfect Spanish school. And the time it takes! So here's how Teach Me Mexico can make it easier for you:
We save you time.
A real person helps you.
That person is bilingual, experienced, and knows Guanajuato and the schools.
We search for the best school for you.
We get you the best price.
It doesn't cost you a dime. Or a peso.
And to top it off, we give you a gift of over US$100 of Spanish learning material if you register through us! Why
wouldn't
you use TMM?
CONTACT US
Get some Spanish under your belt before you get to Guanajuato, or continue learning Spanish after your trip to Mexico with Spanish Lessons Online.
Native-speaking, experienced language teachers will give you live classes via Skype, on your schedule. You don't even have to leave the house!
Visit Live Lingua Spanish to find out more about studying Spanish online.