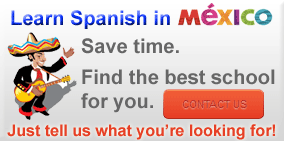 Many people choose this mid-sized, colorful, southern Mexican city to study Spanish because of its
| | |
| --- | --- |
| | eco-friendliness. Go hiking in the surrounding Sierra Norte. Hop on a horse or make your way on a mountain bike to witness waterfalls or the world's largest tree (at least width-wise). |

| | |
| --- | --- |
| | indigenous culture. Oaxaca's large native presence brings cultural, culinary, and linguistic flavor to the city. Savor the influence of |

Zapotecs, Mixtecs, and Triquis, as well as other groups with pre-Hispanic roots, by

attending the famous regional folk dance festival, the Guelaguetza
volunteering with one of the numerous non-governmental organizations there
visiting nearby indigenous towns like Teotitlán del Valle or Tlacolula.

crafts and art. Whether in the museum or the market, marvel at the colors, workmanship, and traditions of fabulous hand-dyed-and-woven textiles, such as huipiles (a native-style tunic) and my favorite rugs ever; wood carvings and those whimsical multi-animals, alebrijes; unique Oaxacan black pottery; stamped tin pieces; and stunning jewelry; as well as fine contemporary art.

food. Taste Oaxaca's indigenous and Hispanic flavors -- just like its history -- in its mouth-watering mole (chile/chocolate/seed sauce), tempting tlayudas (a.k.a. Oaxacan pizza), classic quesillo string cheese, crunchy chapulines (grasshoppers), rich hot chocolate (with cinnamon and almonds), and bold mezcal, among other delightful delicacies. Learn to make these dishes yourself with a cooking class at your Spanish school.
fun. Three words: giant carved radishes. Huh? Be in Oaxaca a few days before Christmas for the Noche de los Rábanos to size up the, um, sculptures fashioned from specially grown radishes.
numerous Spanish schools. Choose from more school programs, even ones in universities. Oaxaca is used to seeing students, both Mexican and foreign. There's something to be said for that.
proximity to ruins and beaches. Climb a pyramid or wander among the ancient spirits of nearby impressive archeological sites like Monte Albán and Mitla. Soak up some sun for a weekend or a week off at one of Oaxaca state's breathtaking beaches, just a few short hours away from the capital city. (Teach Me Mexico can arrange Spanish classes for you in Huatulco or Puerto Escondido too if you'd like to continue your language learning journey while there!)
Read about more Things to Do in Oaxaca or write us now if you're already stoked about studying Spanish there!
CONTACT US
We know how hard it is finding the perfect Spanish school. Teach Me Mexico saves you time and hassle. Just tell us how you imagine your Spanish classes in Oaxaca, and we'll figure out the best school for you. It's that easy. Plus:
A real person helps you.
That person is bilingual, experienced, and knows Mexico and the schools.
We search for the best school for you.
We get you the best price.
It doesn't cost you a dime. Or a peso.
And to top it off, we give you a gift of over US$100 of Spanish learning material if you register through us! Why
wouldn't
you use TMM?
CONTACT US
Get some Spanish under your belt before you get to Oaxaca, or continue learning Spanish after your trip to Mexico with Spanish Lessons Online.
Native-speaking, experienced language teachers will give you live classes via Skype, on your schedule. You don't even have to leave the house!
Visit Live Lingua Spanish to find out more about studying Spanish online.