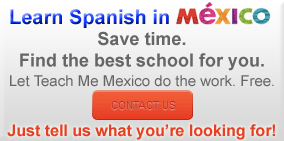 Mexico's fourth-largest city, the traditional city of Puebla and its guards -- three majestic snow-covered volcanoes -- welcome you to study Spanish among the lovely colonial architectural masterpieces, dine internationally acclaimed cuisine, and revel in its rich culture and history.
You'll take your Spanish immersion classes in the historic downtown centro, where you can walk to
colorful markets full of textiles and world-famous talavera ceramics
information-packed museums, like Museo Ámparo, Museo de la Revolución, Museo Poblano de Arte Virreinal, and Museo Casa del Alfeñique
ornate baroque churches, such as Templo de Santo Domingo, Templo de San Francisco, and the Jesuit-founded Iglesia de la Compañía.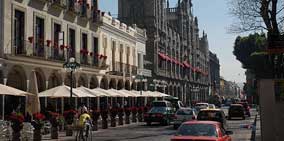 Or just sit in the zócalo (main plaza) to witness a slice of real Mexican life: families with children buying balloons, seniors joyfully dancing to live orchestral music, and ice cream in hand, all laughing at the clowns.
For lunch be sure to order turkey in mole, the chocolate-chile sauce that put Mexican food on the world's culinary map. If the mole's too hot for your taste, try the chiles en nogada, a national dish thought to originate in Puebla that makes a Mexican flag on your plate: stuffed green poblano chile covered in white creamy nut sauce and topped with Frida-red pomegranate seeds. For the truly adventurous eater, there are also delicacies like escamole (ant larvae).
Puebla is cool. At over 7000ft (2200m), the days can be pleasantly warm while the nights stay remarkably refreshing. Also, Puebla's large student population, due to its numerous universities, keep the city hip and alive and, well, cool.
Founded by the Spanish in 1531, colonized by the French, and now home to the largest Volkswagen plant in the world outside of Germany, Puebla has a decidedly old-European feel to its downtown despite its industrialized outskirts, as well as an interesting history. A first plot to overthrow the Porfirio Diaz regime was quashed here, and May 5 (cinco de mayo) became a noted day when Mexican forces somewhat unbelievably ousted the French (but only for a short time).
Outside of Puebla, be sure to visit
the nearby, insanely photogenic town of Cholula, an indigenous religious center before the Spaniards arrived

| | |
| --- | --- |
| | Teotihuacan, the famed ruins that include the Pyramids of the Sun and the Moon |

| | |
| --- | --- |
| | the attractive colonial capital of the neighboring state, Tlaxcala |

| | |
| --- | --- |
| | Africam Safari, a "zoo" where you drive into where the animals – including lions, tigers, elephants, and monkeys – live. |
And we can't forget Mexico City, of course!
Your Spanish language school can help you arrange these and more trips, to take full advantage of your stay in Puebla, Mexico!
Check out our Things to Do in Puebla page for more details on these places, or contact us now if you already know that Puebla's where you want to be!
CONTACT US
We know how hard it is finding the perfect Spanish school. Here's how Teach Me Mexico can make it easier for you:
A real person helps you.
That person is bilingual, experienced, and knows Mexico and the schools.
We search for the best school for you.
We get you the best price.
It doesn't cost you a dime. Or a peso.
And to top it off, we give you a gift of over US$100 of Spanish learning material if you register through us! Why
wouldn't
you use TMM?
CONTACT US
Get some Spanish under your belt before you get to Puebla, or continue learning Spanish after your trip to Mexico with Spanish Lessons Online.
Native-speaking, experienced language teachers will give you live classes via Skype, on your schedule. You don't even have to leave the house!
Visit Live Lingua Spanish to find out more about studying Spanish online.