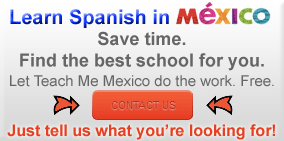 In Santiago de Querétaro (Queretaro city's official name), you'll take your Spanish classes in this mid-sized city's historic center, where streets -- many pedestrian-only -- lined with classic colonial façades gently lead from one flower-filled plaza to another. In the afternoons, enjoy regional huapango music and dance, or take cover from the dry semi-desert sun on a shaded bench or nearby café to check your email with the plazas' free wi-fi. Expect to be offered a traditional, colorful cloth doll from one of the state's indigenous Otomí descendents too.
A conservative stronghold of Mexican Catholicism, Queretaro centro's air rings with bells and cohetes (noisemaker firecrackers) from its numerous churches and active convents, which house impressive paintings, altars, and the ever-present mannequin-like representations of saints and the Holy Family in their baroque, gilded naves and chapels.
If you like history, Queretaro is the place for you. In a house at the head of the Plaza de Armas, a famous whisper from Doña Josefa Ortiz de Domínguez (La Corregidora) leaked an opposing plot through a keyhole, starting a chain of events that led to the declaration of Mexico's independence soon after. Queretaro also witnessed the execution of Maximilian, as well as the signings of the Mexican constitution and the Treaty of Guadalupe Hidalgo (that ended the Mexican-American War).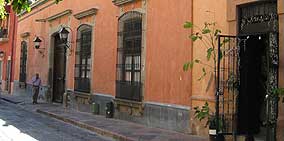 Perhaps because of its crucial role in Mexican history or maybe simply because it's not the beach, Queretaro's tourists are predominately Mexican, although the influx of foreign investment attracts more expats every year to work in the city's industrial outskirts.
In town, you won't want to miss the
UNESCO-World-Heritage-site 18th-century aqueduct
churches and convents, in particular, Convento de la Cruz
museums, including regional, art, history, and graphic arts ones
Cerro de las Campanas (Hill of the Bells) and its interactive Queretaro history museum
markets, including Mercado de la Cruz, if you can stomach the sight of the whole hanging animals in the meat section!
Not too far away in surrounding Queretaro state, tour pre-Hispanic ruins and vineyards, browse crafts markets in quaint nearby towns, climb the world's third-largest monolith in Bernal, or camp out in the mountainous Sierra Gorda Biosphere to visit ancient Franciscan missions or to witness the largest wild flock of military macaws in the world.
Click over to our Things to Do in Queretaro page for more details on these places, or contact us now if you're already dreaming of Queretaro!
CONTACT US
We know how hard it is finding the perfect Spanish school. Here's how Teach Me Mexico can make it easier for you:
A real person helps you.
That person is bilingual, experienced, and knows Mexico and the schools.
We search for the best school for you.
We get you the best price.
It doesn't cost you a dime. Or a peso.
And to top it off, we give you a gift of over US$100 of Spanish learning material if you register through us! Why
wouldn't
you use TMM?
CONTACT US
Get some Spanish under your belt before you get to Queretaro, or continue learning Spanish after your trip to Mexico with Spanish Lessons Online.
Native-speaking, experienced language teachers will give you live classes via Skype, on your schedule. You don't even have to leave the house!
Visit Live Lingua Spanish to find out more about studying Spanish online.