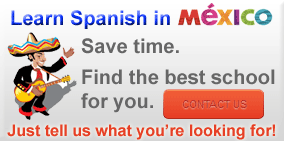 You're a serious Spanish student but you're also serious about your time off. You love the beach, especially a white-sand, palm-lined, tropical one. You enjoy a little nightlife, though – maybe a later-night cold one at a surfside lounge or gettin' your groove on to the beat of an upscale club. You also like dining options, shopping, and people.
Then Playa del Carmen, "one of the hottest destinations in Mexico" per Travel+Leisure, is for you!
A little over half an hour south of the Cancun airport, midway along the postcard-perfect coast, the "heart of the Riviera Maya" isn't the urban, all-night-every-night big clubbing scene that characterizes its northern neighbor, but nor is it the totally laissez-faire, early-to-bed scene of Tulum to its south.
Instead, Playa, as it's known locally, warmly welcomes you to its relaxed-but-still-plenty-to-do ambience, whether you want to spend your evening in a beachfront bohemian bar or a classy low-lit lounge. Whichever you choose, Playa does it with style.
Playa del Carmen's breadth of beaches, dining, diving, entertainment, and shopping attract hundreds of thousands of tourists annually -- many from Europe. Some arrive on the numerous cruise ships that dock just south of the city.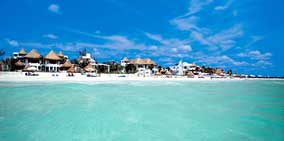 After Spanish classes in the morning, catch some rays on the most popular Playa Mamitas, where the European top-optional custom has caught on. For comida, savor exquisitely prepared Mayan, Mexican, European, Asian, Argentine, or fusion plates. Or grab a slice of pizza from the corner before heading out to snorkel along the world's second largest reef, just off the shore, where don't be surprised if you spy a giant turtle among the fluorescent fish and coral. Another afternoon – or two or three – stroll along the pedestrian Quinta Avenida (Fifth Avenue) to shop for t-shirts or crafts, a brand-name camisa or a souvenir, stopping for ice cream or a raspado to cool off. In the evening, see a show or move your feet to a Latin beat in a dance club.
Take a day or a weekend off the beach to
cool off in the chilly, clear waters of a nearby cenote
explore the fascinating ruins and roots of the Mayan culture of the Yucatan at archeological sites including Tulum, Chichen Itza, and Coba
swim with dolphins, bask in the spa, or enjoy a show at eco-park Xcaret or Xel-Ha
find a manatee or jaguar at the Sian Ka'an Biosphere Reserve
play a round of golf at Playacar
or finish a triathlon, or attend a jazz festival, or.... You get the picture!
See more Things to Do in Playa del Carmen or contact us now if you're already planning or even just thinking about that trip.
CONTACT US
You want to take Spanish classes while you're in Playa del Carmen but it takes enough time out of your day just to get the plane tickets! That's why we're here. We know the schools and programs there. We can even help you with certain accommodations. Here's how we make it easier for you:
A real person helps you.
That person is bilingual, experienced, and knows Mexico and the schools.
We search for the best school for you.
We get you the best price.
It doesn't cost you a dime. Or a peso.
And to top it off, we give you a gift of over US$100 of Spanish learning material if you register through us! So contact us now if you're even just toying with the idea of spending some time learning Spanish in Playa.
CONTACT US
Get some Spanish under your belt before you get to Playa del Carmen or continue learning Spanish after your trip to Mexico with Spanish Lessons Online.
Native-speaking, experienced language teachers will give you live classes via Skype, on your schedule. You don't even have to leave the house!
Visit Live Lingua Skype Spanish lessons to find out more about studying Spanish online.