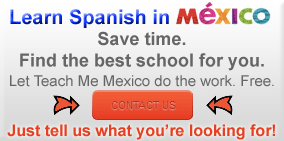 The urban heart of Mexico City pulses with juxtapositions: glass-and-steel skyscrapers towering over colonial palaces, a weathered indigenous woman begging as you enter one of the world's top-tier venues for an internationally acclaimed show, ghetto kids playing soccer in the shadow of a pre-Hispanic pyramid. This largest city in Latin America is alive, vibrant, and ever-morphing, making it a particularly interesting place to study Spanish.
You can't run out of things to do or places to practice your Spanish in the Mexican capital, often referred to as "el DF" (Distrito Federal) or just "México". History, culture, cuisine, architecture – today or BC: it's all here.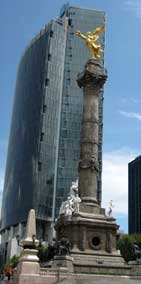 Root for your favorite masked hero at a lucha libre. Bicycle on Paseo de la Reforma on Sundays. Take in a soccer game at Latin America's largest stadium, Estadio Azteca. Ride a horse or bet on a race at the Hipódromo de las Américas. Spend a relaxing afternoon floating on Xochimilco's canals (a.k.a. the Venice of Mexico). Take a plane ride to see the city from above. Visit world-class museums. Delight in a dance show or theater. Dine on fabulous Mexican and international cuisine. Boogie the night away at the club. You get the idea.
An extensive public transportation system will take you to any place in the greater metropolis area you want, although you can walk to many places from your centrally located language school. Indeed, just meander the tree-lined streets of the colonia to poke your head into upscale boutiques, restaurants and cafés housed in interesting art-deco and colonial buildings.
Walk to the nearby park of Chapultepec to find a 1700's castle, the most impressive national anthropology museum, a botanical garden, two modern art museums, and a zoo. Stroll down Paseo de la Reforma to see Mexico's tallest building, monuments to heroes and a goddess, the stock exchange, and that symbol of the city, a shiny winged-victory angel of independence.
Mexico City's zócalo (main plaza) is also almost a city unto itself. Enter the Palacio Nacional to get up close to Diego Rivera murals, the sinking cathedral for some straight-on Mexican Catholicism (replete with milagros stuck to the statue bases in hopes of prayers answered), and the excavated ruins of the Aztec pyramids, Templo Mayor, on which the Spanish literally built their New World empire.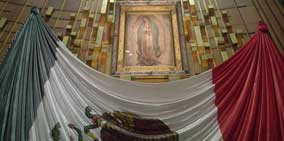 (If Mexican Catholicism interests you, while not in walking range, be sure not to miss the Basílica de Guadalupe, the mecca-shrine to the nation's patron saint.)
Walk west just a few blocks from the zócalo on Av Madero and stop for comida or tea in the lovely tiled Casa de los Azulejos. Stick your head in the post office on the corner a block away to gape at the ornate interior, then cross the street to the magnificent fine arts palace, the Palacio de Bellas Artes. Beneath the popular poplar trees, the next-door Alameda park has a life of its own too.
A favorite, relatively new museum of "popular" (of the people) art can be found off to one side of the Alameda. As you can imagine, Mexico City's museums are simply too numerous to all be named here, but here is smattering, just to whet your museum-going appetite:
Museo de Arte Moderno: modern art

Museo Nacional de Antropología: anthropology
Museo Nacional de Arte: art and pre-Hispanic culture
Museo Nacional de Historia: in the castle in Chapultepec
Museo Dolores Olmedo Patiño: mostly Diego, Frida, and cubists
Museo Franz Mayer: 16th- and 17th-century decorative pieces and furniture
Museo Nacional de Arquitectura: architecture
Another must-see is the Frida Kahlo museum, also known as the Casa Azul (Blue House). Artsy Coyocán, the area of the city where Frida's house is, also boasts her friend Leon Trotsky's house, and a bohemian crafts market between the two main café-lined plazas.
Take advantage of Mexico City's central location, modern airport, and luxury bus lines to explore farther destinations too, including the can't-miss famed ruins of Teotihuacan, as well as not-too-far colonial gems of cities Puebla, Tlaxcala, and Queretaro.
And this is just the starting list! Find more (!) Things to Do in Mexico City, or contact us now if you're already intrigued!
CONTACT US
Have hours to look up all the Spanish schools in Mexico City and figure out which is the best for you? We know... so we've already done most of the work for you! Just let us know what you want from your language-travel experience, and we'll make it easy for you:
A real person helps you.
That person is bilingual, experienced, and knows Mexico and the schools.
We search for the best school for you.
We get you the best price.
It doesn't cost you a dime. Or a peso.
And to top it off, we give you a gift of over US$100 of Spanish learning material if you register through us! Why
wouldn't
you use TMM?
CONTACT US
Get some Spanish under your belt before you get to Mexico City, or continue learning Spanish after your trip to Mexico with Spanish Lessons Online.
Native-speaking, experienced language teachers will give you live classes via Skype, on your schedule. You don't even have to leave the house!
Visit Live Lingua Spanish to find out more about studying Spanish online.